This weekend I would love this leopard print ponyskin clutch by
Jerome Dreyfuss.
Leopard print can be very versatile and pairs well with most colours, especially black.
At £339.00 this clutch bag is quite expensive, so a more affordable version would be this
River Island
one at £18.00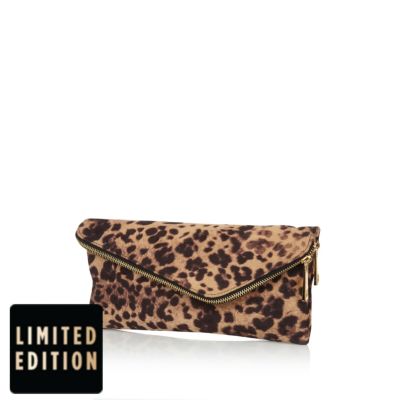 Tiffy wears…
For an effortlessly chic dressed up outfit, Tiffy would use either clutch bag to finish a pair of black fitted trousers, a tan loose top and a pair of black heeled ankle boots, to create an elegant evening outfit.
Or
Allow this leopard print clutch to make a maximum impact in a monochrome daytime look – pair it with black leather (look) trousers, a white billowy blouse, black boots and a black blazer.

I think both the bags are a great way to add a striking edge to any outfit (daytime or night time) and they are both so similar. I prefer the structure of the River Island clutch as it features an asymmetric zip, which offers a touch of detail, but the print on the Jerome Dreyfuss clutch is more realistic and the ponyskin makes it more luxurious. Also, I love the fact that either bag can be worn day or night and both are extremely versatile and because the leopard print is in classic colours they can be worn again and again without going out of style.

Thanks for reading X

p.s. Which bag do you prefer? How would you style it?